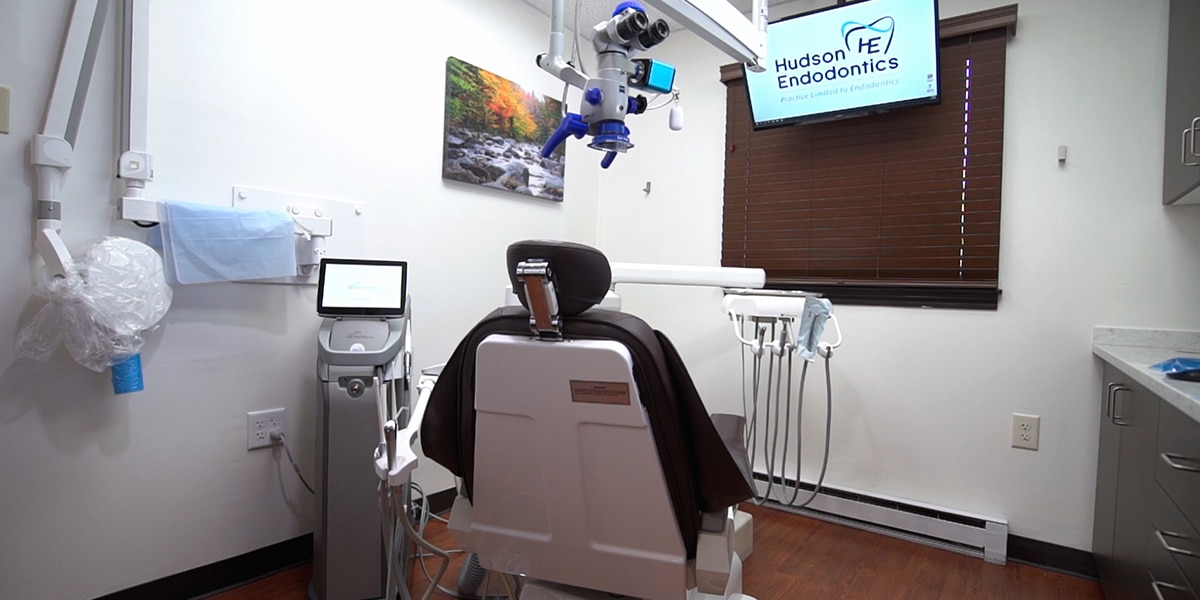 Elite Endodontics of NH provides sedation dentistry in Hudson and Hooksett, NH. To learn more or schedule an appointment, call 603-882-5455 for our Hudson office and 603-628-2891 for our Hooksett office.
Although modern root canal therapy is pain-free thanks to local anesthetic and advances in technology, we understand that many patients are nervous about the procedure. Whether you have dental anxiety, a lifelong phobia, or you're simply feeling a bit uneasy, we offer a dental sedation option that will meet your needs. 
Nitrous Oxide
Nitrous oxide is the mildest form of dental sedation. Commonly known as laughing gas, nitrous oxide is very safe, with few risks or side effects. It also takes effect quickly and wears off just as fast, so you'll be able to drive yourself home from your procedure. Nitrous oxide will make you feel relaxed, but you'll remain conscious and aware of your surroundings.
We'll place a small mask over your nose and you'll breathe in a mixture of oxygen and nitrous oxide. The amount used can be adjusted throughout your procedure as needed. Most patients are candidates for nitrous oxide sedation, but if you have COPD, emphysema, or other conditions that cause difficulties with breathing, it is not recommended.
Conscious Oral Sedation
Conscious oral sedation is an alternative minimal sedation that, like nitrous oxide, allows you to remain awake but relaxed during your treatment. It's well-suited for patients who require a deeper level of sedation than offered by nitrous oxide, but prefer to avoid IV sedation. We will prescribe an anti-anxiety medication for you to take prior to your procedure. Because it can take a few hours for its effects to wear off, you will need to have someone drive you to and from your appointment.
IV Sedation
IV sedation is ideal for patients with dental phobia and severe anxiety. For your safety, IV sedation services are performed by Dr. Lily Hu, a board-certified dentist anesthesiologist. Sedation is administered through a vein, which allows the medication to work quickly. Technically speaking, you will be conscious during your procedure, but you will be in a semi-awake state and have little to no memory of your treatment once it's complete. Because of this, patients often feel as if they've slept through their procedure.
Frequently Asked Questions About Sedation Endodontics

Will I feel any pain with dental sedation?
Dental sedation is used in conjunction with local anesthesia for pain, which ensures you're calm and comfortable during your treatment.
What are the benefits of IV sedation dentistry?
Some of the benefits of IV sedation dentistry include:
Offers a Higher Level of Sedation – IV sedation provides a higher level of sedation than oral sedation or nitrous oxide.
Works Quickly – Because the drugs are delivered intravenously, IV sedation takes effect quickly. It can take an hour or more for oral sedatives to start working.
Quick Recovery Times – Patients who get IV sedation recover faster than those who receive oral sedation or general anesthesia.
Works for Severe Anxiety – IV sedation can help even patients with acute anxiety and dental phobias since it produces a higher level of relaxation.
Amnesia – Patients rarely recall their procedure since amnesia is a common side effect of the drugs used for IV sedation.
Diminishes the Gag Reflex – IV sedation can help patients with a sensitive gag reflex by suppressing it, making endodontic treatment easier.
Should I choose sedation endodontics?
You and your endodontist must decide if sedation is appropriate for your situation. Because sedation encompasses a wide range of options, you'll want to talk to your endodontist about whether mild, moderate, or IV sedation is best for you. Sedation eligibility is determined by your age, health, and any medications you may be taking.
What should I expect if I am sedated for my dental procedure?
The answer to this question depends on the type of sedation used. Oral sedation requires you to take a prescription drug about an hour before your procedure. During treatment, you'll feel more relaxed while remaining fully aware of your surroundings. If you opt for nitrous oxide, you'll breathe it in through a small mask placed over your nose during your procedure. Additional nitrous oxide can be provided if needed, or the level of sedation can be reduced.
If IV sedation is right for you, you'll be told not to eat or drink anything the night before your procedure. Prior to your endodontic treatment, an intravenous sedative will be given to you, helping you fall into a state of deep relaxation. Throughout the treatment, a dental anesthesiologist will carefully monitor you and modify the sedation dosage as needed.
Are you looking for an endodontist in Hudson or Hooksett, NH? Contact us today to schedule an appointment.